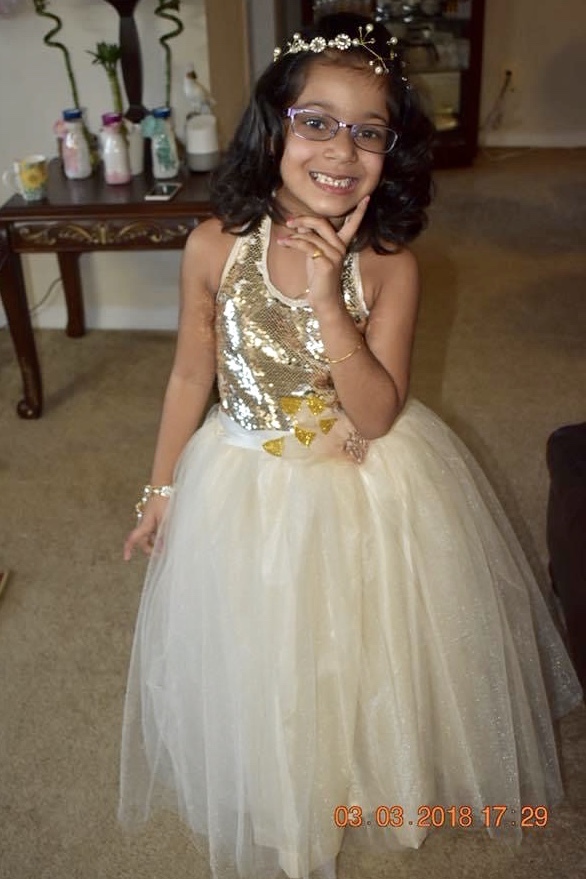 My creativity takes flight when planning birthday parties for Miss S, or does it!🤔🙃 Now that she is growing up to be a confident and self assured young lady, she knows what she wants and conveys it beautifully. Be it her birthday theme or the kind of dress she wants for the party 🥰.
For her sixth birthday she wanted a unicorn themed birthday party. I made a glittery and colorful backdrop and photo props, we had yummy treats, a piñata and played a few games. Click on the link to find out more about the Unicorn Themed Birthday Party!
The choice was made obvious, something sparkly, long and twirly (her words, not mine 😉)
I found this amazing golden sequined fabric and champagne colored tulle in my stash. Perfect for a floor length tutu gown. I have designed it to be a halter neck dress with a glittery feather cluster for the waist belt embellishment. The many layers of tulle makes this floor length gown poofy and perfect for twirling around! (Wow! This rhymes!🤣)
To complete the look, I designed this beautiful tiara with gold wire, crystal beads and pearls. Also a matching bracelet. Little Miss S didn't need much convincing to pose for pictures this day😂
She couldn't stop twirling and flaunting her dress throughout the party. She said, "Mumma this is amazing! I love drowning in these layers of tulle, and this tiara gives me princess feels."
The best compliment I could receive that day🥰.
Thank you for reading till the end. Do let me know what you think of this customized birthday costume.